Humanistic Jewish Community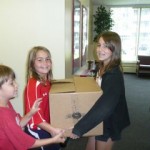 Humanistic Judaism was established in 1963 to provide a humanistic alternative in Jewish life. The Society for Humanistic Judaism (SHJ) was founded in 1969. Jewish communities throughout the United States and Canada are affiliated with the SHJ. The International Federation of Secular Humanistic Jews was established in 1986. In a little more than 30 years, Humanistic Judaism has spread to every continent.
Humanistic Judaism:
Defines Judaism as the collective historic experience of the Jewish people and promotes a community of shared Jewish values.
Promotes the development of a strong Jewish identity, especially for those Jews who cannot intellectually or emotionally embrace a supernatural being, or who are unsure about the existence of such a being and want to express their Judaism in an honest and meaningful way.
Emphasizes the capacity in all human beings to improve themselves and the world through learning and the performance of good deeds.
Teaches that ethical behavior is conduct which enhances the dignity of every individual.
Understands that ritual without meaning is simply empty ritual and that liberal Judaism is authentic Judaism, without apologies to the present or nostalgic bows to the past.
Rabbi Kornfeld explains more about Humanistic Judaism in the video below: